June 11, 2002
Growing Accurately
Owner finds room for his expanding enterprise in centrally located business park.

Brian Franks, Staff Writer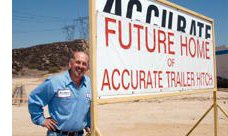 From floor to ceiling, trailer hitches envelop several storage rooms. Against the back wall of one, custom-made heavy-duty hitches are stacked neatly on a palate. On the shelves to the left and right, 1,000-pound to 90,000-pound capacity hitches await a coat of black paint.

But what Sol Raviv is most proud of is the fact that construction has finally begun on his new shop, a 24,000-square-foot, two-story building on 1.8 acres in the Centre Pointe Business Park, located directly behind his current 12,000-square-foot facility.

"I've been after this lot for 10 years," Raviv said. "They wouldn't sell it to me because it was part of the complex. Then Larry Rasmussen bought it and sold the lot to me."

Raviv designs, manufactures, sells and services all types of hitches. After more than 20 years in business — 14 as owner and founder of Accurate Trailer Hitch & Welding Inc. in Santa Clarita — Raviv said he still enjoys participating in the daily process of servicing and selling hitches.

"There is always something to do," Raviv said. "There is no such thing as nothing to do."

Accurate Trailer Hitch specializes in custom-made trailer hitches, fifth-wheel installation, brakes, wiring, tow bars, transmission coolers, steel fabricating, bicycle, motorcycle and snow ski carriers and all types of welding.

"No one in California has what we do," he said. "I don't believe in being in business and ordering stuff. If we sell it, we have it in stock."

Born in Israel, Raviv came to California in the late 1970s. After studying engineering at Los Angeles City College, Raviv moved to Windsor, Ontario, Canada, to be a partner in a trailer-hitch business. But after a few years, he said he began to dislike the fact that Windsor was extremely dependent on the automobile industry.

"There was a cycle of ups and downs," he said. "The town would grow and shrink. That's good for the real estate industry, but not for my business." By the late 1980s he began looking at starting a new business in California. "I was driving down the freeway and saw all the construction and the potential for growth," he said. "Everyone had boats and trailers."

In 1988, he sold his Canadian business interest and opened Accurate Trailer Hitch in Santa Clarita.

"I was the first tenant in the complex," he said. "There wasn't even electricity when I first moved into the building."

Raviv said his business was an immediate hit. "Business kept growing and growing," he said.
Within a few years he added seven welders and moved from his original 1,300-square-foot unit to a facility almost 10 times larger.

"It's not unusual for someone to drive two hours for one of our hitches," he said.

Three years ago Accurate Trailer Hitch out grew its 12,000-square-foot building and Raviv said he began looking to move without going outside the area. "I can't grow anymore without the new building," he said.

In May, Accurate Trailer Hitch broke ground on its new facility, which doubles the current space and will allow for future expansion. Raviv said the best part of the new building will be improved customer service.

"We will have more room ... and 70 parking spaces," he said, "which will allow us to offer better customer service." Construction on the new building is scheduled to be completed in December.